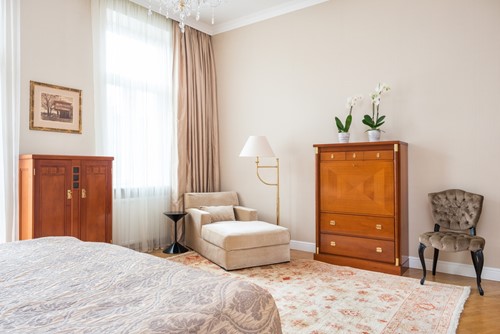 In interior design, traditional home decor is considered a timeless staple. By emulating traditions of the past without pinpointing any specific era, traditional decor creates warm and welcoming atmospheres in any room. If you're interested in trying traditional style in your home, here is a guide to the basics.
Characteristics of traditional interior design
To make the best use of traditional interior design at home, it's important to understand and recognize the key characteristics. Some specifics include:
Furniture, decor and art originating in 18th and 19th century European design
Comfortable, functional room layouts accommodating groups of people
Emphasis on symmetry, specifically in matching pairs of furnishings
Traditional interior architectural elements like wainscoting and crown molding
Neutral, comfy color palettes
Patterns are usually subtle
Tips for using traditional home decor
Now that you're more familiar with the basic elements of traditional design, you can begin experimenting with it in your own home. Here are some ways you can bring traditional style to any room:
When choosing colors, opt for earthy neutrals and subdued jewel tones.
Choose subtle patterns for upholstery, window treatments, wallpaper and other textiles. Some of these patterns include stripes, florals and plaids.
Try simple and classic light fixtures like sconces, chandeliers and pendants.
Incorporate darker wood tones such as walnut into furniture and flooring.
Avoid clutter, but add a healthy amount of traditional accessories including candelabras, ceramic vases, antique silver and china sets.
Add an overdyed Persian-inspired area rug for instant traditional charm.
Try matching sets of lamps, end tables or chairs. However, avoid matching too many elements in the same room to keep the design feeling natural.
Traditional home decor can be elegant and timeless without feeling overly formal. Try incorporating these elements into your current decor for a more natural style transition. Once you learn to recognize the characteristics, you'll find it simple to bring traditional design into any part of your home.