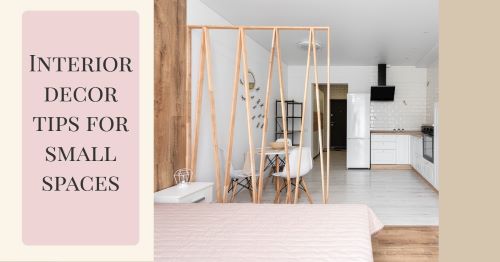 Living in a tiny home or studio apartment? Smaller living areas can be cozy, but sometimes it's a challenge to get the most out of less space. Here's a beginners guide to interior design for the small spaces in your home.
Add depth
Adding depth to your room can make a small space appear larger. Adding reflective mirrors or glass does a fantastic job accomplishing this. Reflective surfaces give the illusion of more space in a room. Painting and decorating with light shades can make the space feel even more dimensional, open and airy.
After you've added depth, it's essential to utilize the area to the best of its capability. The next section reviews how to get the most out of the space in your small home.
Every corner can be a hangout space
Every corner in your home can be useful and fun. For example, you may enjoy board games. Add a coffee table with storage space to your living room. You can enjoy light refreshments with your household along with creating a space to enjoy the games you love.
Open furniture layout in all rooms
It's essential to make sure there's enough open floor space in your home for movement. Small homes can become cramped quickly. Using more compact furniture helps to give the appearance of more room. For example, a two-seater dining table can be added to your kitchen. This leaves more kitchen space open to maneuver.
Make the most of vertical space
As the last section mentioned, you want to keep your space open for free movement. Vertical furniture can help you get the most out of small spaces. For example, bunk beds can hold two individuals and don't take up as much floor room as two separate beds.
You can create space in your small home with the right layouts. Add reflective surfaces to any small room for depth. Keep an open furniture layout and make the most of vertical space.