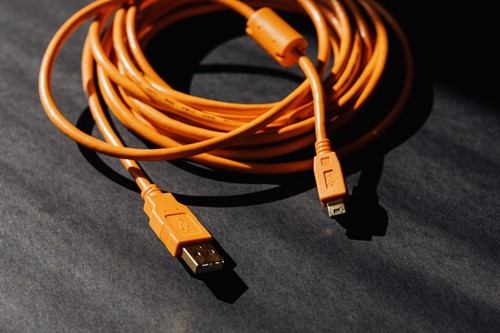 One of the best things you can do to keep your office organized is to invest some time in proper cable management. Tangles of cables and cords for different devices can be chaotic, unsightly and potentially hazardous. While there are plenty of cable management options you can purchase, there are also common items you can repurpose to save money. Here are a few tips for easy ways to keep your cables organized.
Label Everything
Avoid confusion and extra effort by labeling each cord or wire. Knowing which cord is going where is crucial for safe and effective usage, and it's difficult when so many of them look the same. Use colored sticky notes or use a label maker to write what each cord connects to close to the plug. Now you'll never accidentally unplug your computer monitor when trying to move your speakers.
Mount Your Power Strips
Power strips are essential for home offices of any size and also the source of cable clutter. While they are very convenient and compact, they often end up on the floor behind or under a desk out of sight and out of mind. While this helps you avoid the visual clutter, it can pose potential problems and make it much harder to access when you need it. To make your office safer and more efficient, use velcro strips to attach your power strips against the wall so they are up off of the floor. You can also mount a small wire basket to the underside of your desk to hold everything secure and avoid accidental hazards.
Use Twist-Ties
If you have a media entertainment center or computer with several components, it's likely you have cords piled on top of one another going the same direction. A simple DIY hack for cleaning them up is to use regular twist ties to bind cords together. It also helps you avoid accidental unplugging, as the support from the other cords will help keep them in place.
Invest In a Charging Station
Charging cables for smaller electronic devices are a tremendous source of clutter. There are many ways to bring order to the chaos, but one elegant solution allows you to get rid of the cables. Multi-purpose charging stations are small enough to place on a desk or shelf and use wireless technology to charge a wide variety of devices. By using a charging station you can charge multiple devices at the same time while only dealing with a single cable rather than many.
All these tips will help you organize your home office but also your living room, workplace or anywhere else where cable clutter can accumulate. Taking good care of your electronic components means taking care of the cables and keeping them out of harm's way. Smart cable management will also protect you from electric shock, tripping hazards or even electrical fires. Use these ideas to help you bring order to cable chaos.