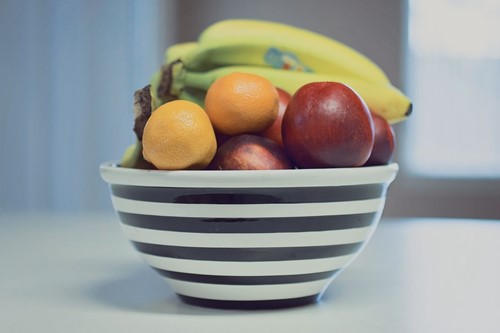 Whether you have recently renovated your kitchen or you are simply trying to give your existing kitchen a fresh look, you will find that accent pieces are a welcome addition to your decor theme. The kitchen is a room that needs to be both practical and functional as well as pleasing to the eye. While you likely aren't going to want to clutter up your countertops with a ton of knick knacks, you should consider adding decorative accents where it is appropriate.
Accents to Consider for Any Kitchen Decor Theme
A Fruit Bowl or Bread Basket - Fruit bowls and bread baskets have been sitting on kitchen tables and counters for centuries. While these accents once served a more practical purpose, today they are there for style more than anything. Not only will a fruit bowl or bread basket look perfect on the corner of your counter, but these items also create a welcoming atmosphere in your kitchen.

A Tray - Kitchen counters are frequently used as catch-alls and it's tempting to just throw your keys or your unread mail in a corner. In order to stay organized while keeping your kitchen looking neat, you can add a tray to your counter that can act as both storage and decor.
A Unique Light Fixture - Sometimes you have to look up in order to see the most significant accent piece in a kitchen. There is almost always a light fixture located above the kitchen table or island and this fixture can play an important role in the overall look of the room. Choose an interesting light fixture that will set the tone or style for your room and you can build the rest of your theme around it.
Glass Canisters - Canisters have long been used by people for storage, but these practical pieces can also double as decor in your kitchen. Glass canisters are versatile and can complement any theme that you select for your kitchen. Instead of storing coffee or sugar in your canisters, consider adding fresh lemons, limes or oranges for a burst of color.
A Ceramic Vase - Ceramic vases come in all shapes and sizes, making these pieces an easy option for kitchen decor. If your kitchen is already filled with patterns and textures, then you may want to consider a plain, neutral vase that can hold any type of flowers. If you are in need of more color in your kitchen, then purchase a vase with a distinct pattern design that can hold bright blooms.
A Comfortable Rug - Kitchen flooring is not often described as comfortable, largely because most people opt for hardwood or tiled floors. A large, cozy rug underneath your table will make it an appealing place for people to sit back, relax and enjoy their meal. Not to mention, the colors of the rug can tie into the rest of the kitchen design, making this piece one of the most pivotal accents in your kitchen.

These accent pieces are classic and timeless, and they will easily blend into any theme or style that you have chosen for your kitchen. It doesn't matter if you have gone with a rustic farmhouse theme or a charming vintage motif, you will need just the right accents to complete the look of your kitchen.