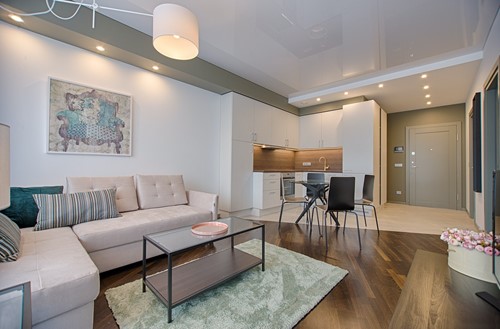 Great interior design is more than choosing the right furniture. There are many factors that go into making an indoor space look its best. While it might seem complex at first, it's easy to create room designs to rival any professional in the industry as long as you know the basics. Here we'll go over some tips from the experts to help you with your interior design.
Choose Colors Carefully
Color is key to interior design, but choosing the right colors will make the biggest difference. Don't shy away from using color in a room design, but stick to a plan. Experts suggest using no more than 5 colors in a single room design and ideally focusing on a triad of a dominant color and two complementary ones. Consult a color wheel to find your best combinations.
Measure Everything
It might seem obvious, but your design depends on more than just your furniture choices fitting in the space. While that should be your priority, measure carefully to make sure you have enough space around and between larger pieces. You want to have adequate space to move comfortably through the room and keep all points of entry accessible. Watch out for secondary furnishings like bookcases and end tables, as they can often surprise you by being bigger than you thought.
Place Your Art & Rugs Properly
Art and area rugs are perfect ways to decorate and add detail to your space. However, there are some best practices home designers swear by for perfect placement. Hang artwork on the walls at the correct height—ideally you want the middle of the piece to me about at eye-level. Make sure you place your rug so that an entire piece of small furniture, such as an end or coffee table, won't become wobbly with half its legs on the bare floor. In a large room, place the rug approximately halfway underneath large items like sofas. If you're not sure what rug to buy, when in doubt designers advise choosing the bigger option.
Layer Your Lighting
There are three types of lighting in interior design that you'll want to combine in a space. Those types are arranged in layers: task lighting, ambient lighting and accent lighting. Each has its own place and function and will make the room comfortable and aesthetically pleasing when combined. Keep function in mind when planning your lighting. Focus task lighting on a reading chair or desk, while keeping ambient lighting soft around televisions to avoid glare.
Make It Your Own
While these tips are universal, the most important aspect of your interior space is that it is yours. Rooms feel and look better when they have a personal touch, so include some of your favorite things. Let your personality show through artwork, furniture choice, decorative accents and more. Don't forget that you're the one living there, so make it a room you will enjoy living in.