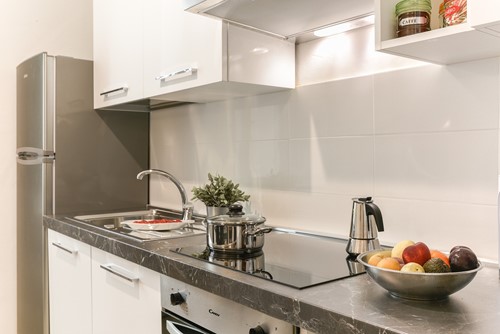 Image by Cristina Mantovani from Pixabay

Whether you're moving into a new home or getting yours ready for the market, remodeling your kitchen can help boost your home's value. You don't have to invest in major remodeling projects to spruce up your kitchen. The following minor remodeling options are cost-effective ones that can give your kitchen a brand new look.
Refinishing Cupboards & Cabinets
If you have older cabinets and cupboards that look dated or flawed, refinishing them can improve the way they look. If the cabinets are in good repair, a fresh coat of paint or stain can give your kitchen a new appearance without a large price tag. Consider refinishing with a modern neutral tone or select a color that complements the surrounding elements like countertops or floors.
New Faucet
If you're looking for a simple way to boost your kitchen's appearance, consider replacing an older faucet with a shiny new one. Installing a new faucet doesn't take long, and it can help your kitchen look more up-to-date. Keep in mind that there are many spout styles and shapes to choose from, as well as a wide range of finishes, including brushed chrome and antique brass. For a cohesive look, consider updating cabinet knobs and drawer pulls to match the finish of your new faucet.
New Countertops
Adding new countertops can have a major impact on the overall appearance of your kitchen. Countertops made of affordable materials like vinyl laminate, formica, ceramic tile, or similar material can help keep replacement costs down. However, if you're able to invest more in your project, natural stone, such as marble or quartz provide more durability and elegance.
Energy-Efficient Appliances
If your kitchen has older appliances, consider switching to more energy-efficient models. This is an easy way to improve your kitchen's appearance while also lowering your energy costs. Whether you go with stainless steel models for a sleek look or black or white ones for a more contemporary style, having these new appliances installed can instantly give your kitchen a fresh new look.
New Lighting
Adding task lighting or under-counter lights can provide much-needed illumination in prep areas while generating ambiance. You may also consider replacing older light fixtures with more modern or contemporary ones to give your kitchen a more updated look. Seek out vintage or otherwise unique hanging fixtures to add something unexpected your room.